Protect against nighttime teeth grinding (bruxism) with easy to fit dental guard
Easiest to wear night guard cushions your teeth without feeling bulky
A night guard is BPA-free, latex-free, silicone-free and does not need to be boiled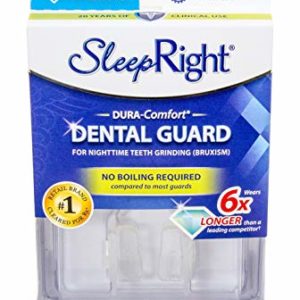 SAFE TO USE. SleepRight Dental Guards have the best FDA safety record in their class – with no FDA adverse events in 21 years. They are non-leaching and non-toxic – with no BPA, latex, silicone, or phthalate.
FOUR POSITIONS. SleepRight Dura-Comfort Dental Guards' bite pads are designed to adjust forward and backward into four positions for a custom fit.
Free of BPA and Latex
Developed by a team of dentists, The Doctor's NightGuard helps prevent the damage from nighttime teeth grinding.
A moldable, custom fit dental protector that helps prevent damage from teeth grinding.
Patented two-layer design includes a soft top layer to cushion and absorb and a firm bottom layer to prevent grinding. The life of your dental protector will vary based on the force of your teeth grinding. It should last approximately six (6) months.